Happy Holidays! I spent the day making cookies and preparing festive food with my mom. Mostly, she entertained a friend and decorated cookies. It was a good time anyway...for some reason I feel like I accomplished a lot today? I guess we did go grocery shopping at two grocery stores, rented movies, and bought a torch to make baked alaskas. I didn't write though. I didn't revise the piece I just wrote for Missbehave.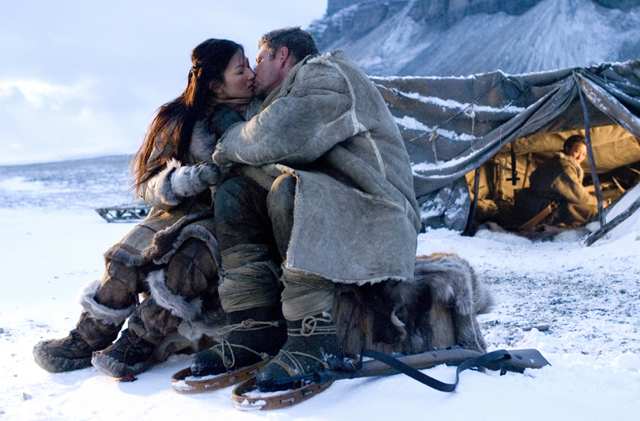 Oh well. I think I'm just starting to get comfortable with this being home thing. Not seeing anyone at all but my mother seems to help. So my mom wanted to watch this movie called
Far North
because she heard it was good. It was about these cute eskimos who have to move around the tundra a bunch or some whiteys will kill them. Then they find a nearly dead whitey who they both fall in love with. The younger eskimo says they're going to run away together, so older eskimo cuts off her fucking face and wears it!!!! wtf! I totally didn't see it coming and there needs to be warnings on movies if that shit's going down! Right? So then we had to watch a whole 'nother movie to get the awful awful image unburned from our tender corneas. So we watched an Audrey Tautou movie called
Priceless
. It's adorable and kinda like Amelie, except she's a gold-digging fashion horse! The other night, my friend Alex and I went to every bar in Santa Fe for drinks. I don't really remember paying for them...but I'm sure I did. Kinda sure. I vaguely remember reading someone else's Playboy and then kissing Alex at the bar. It probably looked a lot like the kiss above only less hot, with more falling, and without
facecutter watching from a distance. I need someone who's not my platonic best friend to make out with...I've got my eyes on the produce guy at this hippie grocery store but I'm pretty sure he has a wallet chain and a bowl cut. I bet he tastes like sixth grade. I also ran into a director/screenwriter I used to work with way back when I donned costumes and pretended to be anyone but myself...oh I guess I'm still doing that...anyway, he's going through a divorce and I'm wondering if it would be sketchy if I asked him to coffee. Not that I want to undress him with my teeth or anything. But it's kind of weird being of a more "adult" age and not knowing how to relate to those who've been adults for a bit longer. I have no idea how he envisions me now. Am I still a sixteen-year-old drama geek in his eyes? Or a 25-year-old straight-out geek? On an unrelated note, here's my bee tattoo!